How to Use Egg Vibrator | Step by Step Tutorial
Last Updated on December 27 2022
Egg vibrators are one of my top recommendations for women looking for discreet, shameless personal massager for self arousal. They are super easy to use too!
Of all female vibrators, the vibrating egg sex toy holds a special place for the first timer because it offers the most subtle, discrete and easy introduction to sex toys compared to any other variety. Today we'll cover instructions on how to use an egg vibrator.
Vibrating eggs are very similar to bullet sex toys in both appearance and power, but there are a few differences that make them stand out as a subcategory of their own.
If you use an egg vibrator massager, you'll instantly notice that it feels different from a bullet vibrator. Despite their similarities, they provide a contrasting feel making them a worthy purchase on their own.
What is an Egg Vibrator?
An egg vibrator is a small oblong vibrator for women used to stimulate the clitoris. They are also well suited to massage the perineum, scrotum or anus and used by couples during foreplay & sexual intercourse. Egg vibrators are either corded with a separate battery pack and controller unit, or a self contained wireless device.

Most people mistake the bullet vibrator for the vibrating egg. I must clarify before continuing on that a vibrating bullet has a thin, narrow shape (reminiscence of a bullet hence the namesake) while the egg vibrator has quite literally, an egg shape.

If you want to buy a bullet or egg vibrator, they are grouped together. For simplicity, we have combined these 2 types of female sex toys into one single category in our website catalog.

This way you don't need to sift through an overabundance of specifics while you buy sex toys online. Sometimes a simplified generic list is best, especially if you're new to the world of adult toys. There's lots of choices out there, I don't want to cause confusion!
Using an Egg Vibrator for Powerful Orgasms
This egg vibrator video tutorial shows the basic way to use an egg sex toy for a fast and powerful orgasm. This is the basic technique, the simple video demonstration for beginners. There are a few ways to apply this to other areas of your sex life too:
I like to think outside the box when thinking of ways incorporate adult toys into the sex life. Most customers assume that only women will buy a wireless vibrating egg and use it on her own. Sure that was the original intention, but knowing how to use an egg vibrator with your lover is more fun and inventive for you both.
Massage it on the clitoris during anal sex.

Slip it into the pouch on a strap on harness providing stimulation for the wearer.

Insert it into the vagina like a vibrating love ball.

Incorporate it into oral sex – lick the clit with the tongue while teasing the vagina or perineum during fellatio

Rechargeable, wireless or remote control eggs can be worn discreetly in public.

Lightly touch the nipple, especially after applying a tingling nipple cream!

Men use the egg vibrator behind the scrotum for extra stimulation during masturbation.
In the egg vibrator video demonstration above, I show a few techniques that create ultra powerful sexual arousal during foreplay with a silver egg vibrator. If the woman has a low libido, using the toy in this way will help the body to relax and get in the mood for love, making it a super fun couples sex toy. (Of course this technique can be done solo too!)
3 Ways to Use an Egg Vibrator:
Solo Self Pleasure
Women looking for a "personal quickie" will reach for the egg vibrator becuase a clitoral based orgasm comes quickly. (Pun intended!)
Before Sex
Women with a low libido or vaginal dryness benefit from clitoral stimulation before intercourse. It relaxes the vagina & muscles within.
During Sex
Couples who like timimg orgasms to occur simulatenously greatly benefit from adding a vibrating egg to their regular repertoire.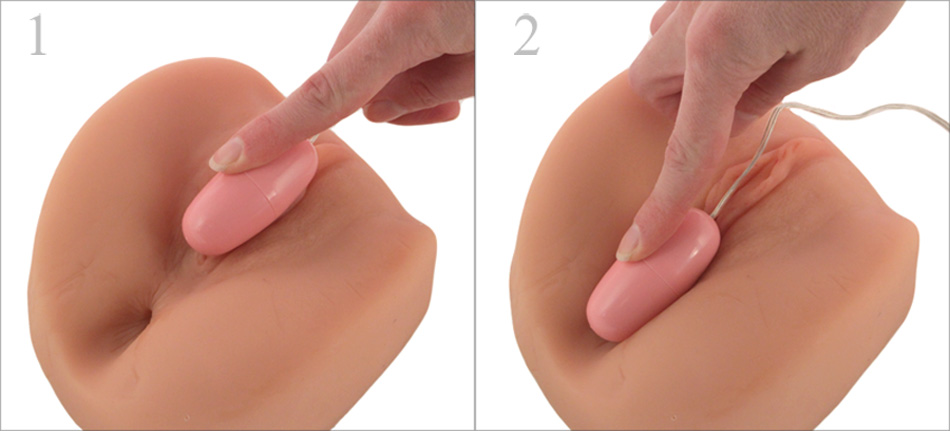 How to Use Egg Vibrator Before Partnered Sex
When I tell clients "use it during foreplay", that does not have the same impact as when I say "use it just before sex". What does that even mean "to use during foreplay"? Are you supposed to hold it on the clit then stop as soon as you feel aroused? Sure, you can, but you're missing the boat!
Hold the egg vibrator firmly on the clitoris until you reach an orgasm. By maintaining direct and consistent pressure over the clitoris, you'll achieve a climax within a minute or so. (If you find you can't get your mind in a sensual mood and let the orgasm roar, try it solo first if you're feeling inhibited about climaxing infront of your lover).
Who Should Use an Egg Sex Toy This Way?
After the orgasm, the vagina feels loose, relaxed and ready for penetration. You'll literally crave your partner's erection (or dildo) inside your body. Middle aged and senior women who find sex after menopause painful can make it feel more enjoyable with this technique.
It also encourages the body to produce its own natural lubrication so when penetration occurs, it goes not strain the internal tissue. Have sex AFTER giving yourself an orgasm with the vibrating egg.
Looking for a recommendation? Check out my personal list of the best vibrating egg sex toys for sale. A handpicked list of my personal favorites! ~ Mayla Green
The important secret is to handle the sex toy yourself. When you let your partner handle it, this is called "foreplay" which is a fun way for loving adults to explore each other's bodies in a free sexual manner.
They just don't know the exact touch, the exact pressure that you need to make yourself cum in a minute. Yes you should let them use the egg vibrator on you, but before sex, you should use it on yourself! It's the same concept as using a wand vibrator too, even the shapes of the heads are similar.
Egg Vibrator Instructions

As opposed to pinpoint clit stimulation, it covers a vast area and is used more for general sexual arousal as opposed to producing a powerful clit-only orgasm. Bullets tend to be more powerful than eggs sex toys simply because eggs have a wider area for the vibration waves to travel, and strength dissipates at it has more surface area to cover. How to use a vibrating bullet? This instruction manual details techniques exclusive for this specific style.
Women like the egg vibrator because it stimulates more of the erogenous zones at once and has a more "full on" type of feel compared to any other adult toy. Egg vibrators tend to have a more "low thumping" type of feel as opposed to the bullet vibrator which as a "high pitch" type of feel. It is just as possible to have an orgasm with a bullet as it is with an egg sex toy, but the avenues they take to reach the final climax feels different from each other.
This is why many women who own a bullet also own an egg vibe because even though they are semantic sex toys (meaning closely related), they both bring to the bedroom a different experience and a unique feel.
Vibrating Egg Video Tutorial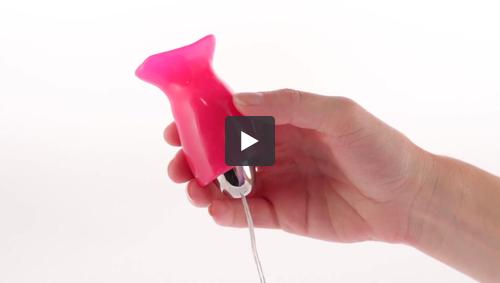 Activate the vibrating egg motor to a low setting.

Spread the labia majora and nestle the egg into the vestibule.

Rock the egg slowly back & forth and up & down in a rhythmic flow.

As you rock it upwards, press the end harder on the clitoris and hold for several seconds.

As you rock it downwards, press it into the vaginal opening as if you were going to insert it fully, and hold for several seconds.

As the egg gets wet from the vaginal lubrication, slide it further down to the perineum.

Rub it in a circular motion from clit to perineum, but keep it tucked inside the labia majora at all times.

Option A:

At the onset of orgasm, quickly remove it from the labia vestibule, spread the clitoral hood with your fingers and press it directly over the clitoris.

Option B:

At the onset or orgasm, press it into the vagina half way and hold it there. Rub your clitoris with your other hand.
Final Thoughts
Using an egg vibrator is simple. Incorporate the sex toy with strap on play, use it with a dildo or during penetrative sex. Enjoy it in public or the great outdoors with a remote control egg vibe. The possibilities are endless as this is a fascinating tiny sex toy that provides huge sexual pleasure.
Click to buy egg vibrators online.