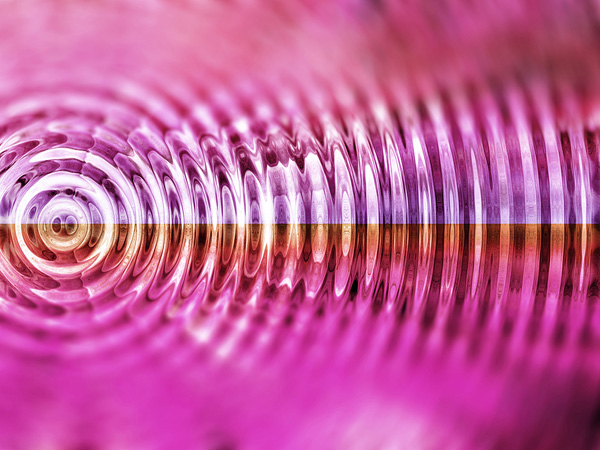 15 Strongest Vibrators for Women | Worlds Strongest Vibrator
Last Updated on May 31, 2022
Looking for a serious buzz? Discover the strongest vibrator ever made and reach orgasm in less than 1 minute. Want to stun your clitoris with the strongest bullet vibrator? (Does said sex toy even live up to the hype?)
In this list of the best, most popular and personal favorite super strong vibrators for women, you're sure to find something totally out of this world. I've had first hand experience with all of these; you can trust my list – yes, they are actually the best!
First for a lesson on the most powerful vibrators for women, check out this previous blog article. It teaches you what exactly gives a vibrator that extra kick for robust sexual pleasure compared to everything else available for sale. It's an insightful read and worth a visit.
If you want to check out the entire category and buy a strong vibrator, scroll to the bottom and go directly to the online catalog. At the time of publication, there are 45 choices, but if that's too many to sift through, keep scanning below for the official list of 12 strongest vibrators you must try:
Q. What is The World's Strongest Vibrator?
A. The Turbo Accelerator is the strongest vibrator ever made.
It is the best clitoral vibe capable of bringing a gal to the brink of orgasm within seconds (I'm speaking from first hand experience here!) The strength even surpasses vaginal sex toys, vibrating dildos, wands and anal vibrators too. Reactions from my clients are often: "But it's so tiny!" Immediately followed by the question: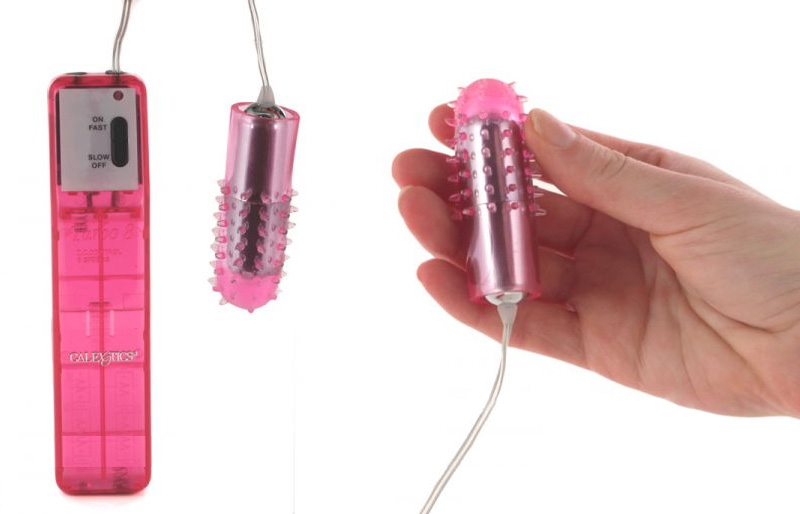 Q. What makes this vibrator really strong?
A. It operates on 4 AA batteries. That is the equivalent battery power required for realistically sized vibrating penis dildos. So when you think about the battery power distribution, all that pizzazz is concentrated into a small space instead of across a larger toy. Voila – super concentrated, mega intense vibration for the clitoris! It compares to any good quality plug in vibrator for sale online.
The Super Strong Vibrator Sex Toy in Action:
What impact does a supercharged motor have to the sex life? Needless to say, the intense buzz is highly erotic paving the way for a fierce orgasm as a result of the extra stimulation. In the demo below, I activate one our strongest vibrators to the highest setting.
You can plainly see the skin and the shaft radiate in a massaging motion. The vibration waves visibly flow through the shaft originating from the middle effectively reaching the ends. It's easy to comprehend what this will feel like when in the vagina - the waves travel through the entire groin producing powerful sexual arousal.
It's no surprise to hear that several of the most popular, stunningly powerful choices appear in the top 20 best vibrators list. If the clitoris is highly sensitive to overstimulation, choose a lower setting. Fingers go numb when holding the device? Although that's never a complaint because that means the powerful motor is doing its thing, you can always tone it down to a lower setting too.
Magic Wand & Powerful Vibrators
When you think of powerful vibrators and intense sex toys for women, the magic wand is often the first that pops into your mind. But is the Hitachi magic wand REALLY the most powerful vibrator? Precise stimulation is the key to better sexual pleasure, after all.
Do vibration settings and patterns really matter? How about the tiny intense vibrator for oral sex? Is internal stimulation really where its at? Truth is, a gal can orgasm just as quickly from external stimulation as she can from internal stimulation.
The ultra discreet muscle massager is cleverly disguised as a Hitachi magic wand style silicone toy for partner play and/or internal and external stimulation. Plug in vibrators have that extra oomph, USB rechargeable sex toys pack a more powerful punch compared to the battery operated body massager.
A high powered vibrator for G spot stimulation has the vibration intensity required for instant orgasms. Multiple pleasure settings add to the fun. For a more forceful touch, skip those with a flexible neck. You want a firm, solid touch on your erogenous zone, especially the clitoris and G Spot for intense orgasms.
A magic wand vibrator with a flexible head and neck might look pretty and practical, but a soft head just can't deliver the same power as one that is solid. A magic wand vibrator with a silicone head is a nice feature on any sex toy since the elegant, silky texture feels warm on your sweet spot.
The magic wand is well known as the most intense vibrator because of the strength of its vibration patterns. Powerful vibrators do not have to fall under the one specific category however, as we'll discover here, all types can feature as one worth trying out at home. Sample the vibration modes and enjoy your erotic pillow talk in partner play!
15 Strongest Vibrators for Women
The following powerful vibrators are listed in order based on my sex educator expertise and personal preferences, but also which provide the most energetic experience. It's important to note that even the one in the final position is good; that does not mean its not worthy of your consideration. After all, these are the 12 best vibrators out of 45 options that are all more powerful than everything else!
1. Power Touch Rechargeable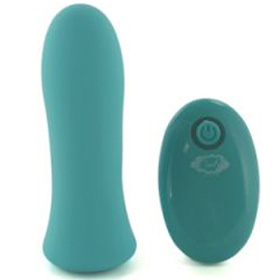 Number 1: A technological masterpiece, the Power Touch Rechargeable vibrator is wireless, remote controlled and USB rechargeable all in one. It's very strong with a wild buzzing intensity unparalleled among other similar remote control eggs and bullet vibrators.
This sex toy can be used on the clitoris, but the torpedo shape is suitable for vaginal teasing – and a tease it provides! The buzzing around the vagina entrance is oh-so tantalizing, making this one of my favorite choices for couples to use together during foreplay. It also relaxes the vagina muscles before sexual intercourse making it a top choice for gals with low libido or dryness.
Total Length: 3 1/2 inches

Diameter: 1 inch

Batteries: USB rechargeable, cord included

Motor: Vibration patterns include 3 speeds & 7 vibrating settings

Silicone bullet, plastic remote control

Waterproof: Bullet only
2. American Penis Vibrator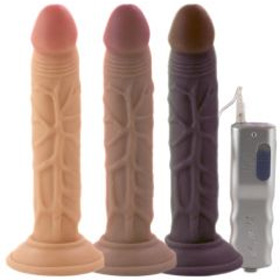 Number 2: Shopping for a realistic penis shaped strong vibrator? American Penis Vibrator should top your list. For the price you pay, this one is an excellent compromise between life like features, power and budget price.
The soft realistic rubber shaft bends easily, yet retains enough "erectness" for fast, pumping sex. The motor placed in the middle has a stunning tingle and the flared suction cup base is one of my favorite strap on harness attachments. One of my personal favorites for when a life like sexual fantasy is in order.
Length: 7 1/2 inches

Diameter: 1 3/8 inches wide by 1 1/2 deep

Batteries: 3 AA, not included

Motor: 3 speeds

Material: Soft rubber

Waterproof: Dildo only

Color Options: Black, Brown, Beige
3. Jumping Gyrator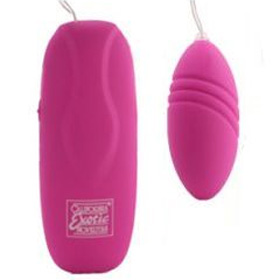 Number 3: As the name implies Jumping Gyrator actually jumps! It gyrates instead of vibrates. What does that mean? Inside the motor, there is a heavy weight that spins on a narrow axis. The extra heavy weight throws the device around in a thumping, gyrating motion.
It feels more powerful than an ordinary tingling vibrator (the "tingling" sensation comes from a motor with a small weight instead of a large one like this toy has), thus gaining a solid spot as 3rd best strong vibrator for women. It's a large egg shaped toy that covers the labia, clitoris and vagina at the same time.
Length: 3 inches

Diameter: 1 3/8 inches

Batteries: 3 AA, not included

Motor: Multi speed

Material: Plastic, rubber coating

Waterproof: Yes

Color Options: Pink, Purple
4. Triple Flex Vibrator
Number 4: The engineering within the Triple Flex Vibrator is simply stellar. The enormous power leads from the base directly into both motors without loosing any juice. The result is a highly intense, extra paralyzing tingle both over the clitoris and inside the vagina.
The lower placement of the insertable motor massages the muscles inside the body, a sensation you'll appreciate during the clenching pulses of a furious orgasm. The long floppy anal stimulator lays between your butt cheeks and radiates the tingling action for discreet anal stimulation. Perfect if you don't want to insert anything anally, but still enjoy a light tease back there.
Total Length: 9 inches

Insertable Length: 5 inches

Diameter: 1 1/2 inches

Batteries: 3 AAA, not included

Motor: Multi-speed

Material: Soft rubber

Waterproof: Yes
5. Jack Rabbit Vibrator – 5 Row
Number 5: Treat yourself to an abundance of erotic enjoyment with the Jack Rabbit Vibrator – 5 Row (indicating there are 5 rows of spinning metal beads in the shaft for internal massage). This is the strongest rabbit vibrator on the market right now, and a prized possession within any female sex toy collection.
The stiffness leads to supreme power delivery. Why? A soft rubber, silicone or jelly surface will adsorb some of the vibration. It's physics at play, but when the surface is firm, the vibration waves rush right through the surface without loosing intensity. The hard rabbit ears literally "hug" the clitoris while the motor underneath whips the clit with furious passion. Need I say more?
Total Length: 10 inches

Insertable Length: 5 inches

Diameter: 1 1/2 inches

Batteries: 3 AA, not included

Motor: Independently controlled 3 speed rotation and 3 speed vibration

Material: Firm jelly

Waterproof: Yes

Color Options: Pink, Purple
6. Dual G Kiss Vibrator
Number 6: The pretty and feminine small sized Dual G Kiss Vibrator is a real surprise. I was thrilled when using it for the first time because I never expected to motor to be capable or outputting such intensity, after all, this IS a budget vibrator for women. A really strong G-Spot AND clitoral vibrator in one – and on the cheap!
The solid shaft has a large thumb like curve at the top to easily locate the G-Spot, even if it's your first time trying a G-spot sex toy, you'll reach the magic mark because the short insertable length places the curve naturally over that ethereal inner erogenous zone. On the outside, the flexible stimulator has a wide angle to cress the pubic bone, finally ending over the clit hood.
Total Length: 7 inches

Insertable Length: 3 3/4 inches

Diameter: Ranges between 1 inch and 1 1/4 inches

Batteries: 2 AAA, not included

Motor: 3 speeds

Material: Silicone

Waterproof: Yes

Color Options: Blue, Pink
7. American Realistic Vibrator
Number 7: Probably the most beautiful realistic vibrating dildo ever made, the American Realistic Vibrator stands mighty and tall, a beacon of sexual enjoyment at your fingertips.
One of the best features is that even though its features are exaggerated beyond real life, the overall dimensions are still "upper intermediate" in size. All women want a great sexual experience, but not all women want such a huge vibrator to give it to them.
Super strong vibrations originate from the tip providing a deep down tingle far superior than most other realistic vibrating toys. The mushroom shaped head and thick raised veins are added delights to fulfill erotic fantasy sex with a studly, capable lover.
Total Length: 8 1/2 inches

Insertable Length: 6 3/4 inches

Diameter: Slightly over 1 1/2 inches

Batteries: 3 AA, not included

Motor: 3 speeds

Material: Soft rubber

Waterproof: No

Color Options: Brown, Beige
8. Risque Tulip Wand Vibrator
Number 8: One of the best insertable magic wand original vibrators ever made, the Risque Tulip Vibrator provides a wealth of stimulation inside the body without stretching the vagina. The wide flared head is one big pleasure bomb in contrast to the non-vibrating thin shaft.
The big head / small shaft contrast helps you to focus all your attention to the stimulation happening inside the body without thinking of what's happening to your vagina, a hallmark feature of magic wands. Women who have a small vagina choose this because it never lacks power yet keeps penetration girth to a bare minimum.
It's also one of the strongest wand vibrators ever made, even though it does not look like a typical wand massager, we still classify it as such. Yes, it can even be used to massage the clitoris too!
Length: 7 inches

Diameter: Shaft: 3/4 of an inch - Head: 1 inch

Batteries: 2 AAA, not included

Motor: 10 functions including pulsing, patterns & speed settings

Material: Plastic, thin rubber coating

Waterproof: Yes

Color Options: Black, Blue, Purple
9. Large Curved Dildo Vibrator
Number 9: One of the only realistic looking G-spot vibrators for sale, the Large Curved Dildo Vibrator is a spectacle worthy of a kinky girls attention. Not surprisingly, men have been using it as one of the strongest prostate vibrators too, so everyone can unleash the powerful pleasure potential of this clever creation.
The pulsating buzz originates from the top third of the shaft. To pile on the pleasure, this one also includes a bullet vibrator that plugs into the same controller unit for clit stimulation. It should be noted however that when you operate both devices at the same time, the power output is divided between both units thus decreasing power. If you want it extremely forceful, only use 1 motor at a time.
Total Length: 9 inches

Insertable Length: 7 1/2 inches

Diameter: 1 1/2 inches

Batteries: 3 AA, not included

Motor: 3 speeds

Material: Soft rubber dildo, plastic bullet vibrator

Color Options: Black, Beige
10. Natural Motion Thrusting Vibrator
Number 10: Far from your typical rabbit sex toy, Natural Motion Vibrator doesn't actually "vibrate". Inside the shaft is a hollow core with a loose heavy metal ball. When the motor is activated, this ball gets thrown up and falls back down resulting in a powerful, hardcore "jackhammer" type of motion. It feels beyond strong, I'd even call it violent! Learnwhat is a thrusting vibrator.
To contrast this wild thumping motion, the soft delicate little rabbit ears flutter over the clit hood, and if you insert the shaft as far as it will go, the bunny vibrator rests between your labia for a brisk external buzz. This rechargeable toy uses a USB cable (included) and provides hours of use before it starts to get depleted.
Total Length: 8 inches

Insertable Length: 4 3/4 inches

Diameter: 1 1/4 inches

Batteries: none, charges with USB cable

Motor: 3 speeds & 4 vibrating patterns of both thrusting and clitoral stimulation

Material: Silicone

Waterproof: Yes
11. Power Rod
Number 11: A solid ramming machine perfectly suited to wild hot sex fantasies. The Power Rod, in general sex toy terminology, is on the smaller side, but in my personal opinion the experience feels larger than the dimensions would suggest.
Why? The Power Rod's ribbed, long shaft is unforgiving and sturdy (think high kink factor), so the firmness makes it feel larger than it actually is. Some people use it in the butt, it truly does make the perfect strong anal vibrator for advanced users and especially experts.
One of the strongest vibrators with ribbed raised veins and silky feeling latex coating make it feel different than your other adult toys. All that orgasmic force comes from just under the circumcised penis head for an adventurous deep reach inside the body.
Total Length: 8 3/4 inches

Insertable Length: 7 inches

Diameter: Ranges between 1 5/8 - 1 1/2 inches

Batteries: 2 AA, not included

Motor: 3 speeds

Material: Rubber

Waterproof: Yes

Color Options: Brown, White
12. Sterling Bullet Vibrator
Number 12: When a woman has vaginal dryness or experiences lack of libido, the Sterling Bullet Vibrator is always THE toy I recommend to spark intimacy in the bedroom. It's a godsend for a marriage lacking a healthy sex life. Hold it over the clitoris during intercourse and voila – shared orgasms and a refreshed outlook to lovemaking.
Even though it looks no different than any other vibrating bullet, the magic happens inside the components. It's engineered so well, there is virtually no loss of power traveling through the device, similar to Pipedream vibrators for women. It's one of the strongest bullet vibrators ever made and its classy, discreet appearance makes it a safe choice for everyone to try.
Length: 2 1/4 inches

Diameter: 3/4 of an inch

Batteries: 2 AA, not included

Motor: 2 speeds

Material: Plastic bullet, Rubber coating

Waterproof: Bullet only
13. Prince Vibrating Dildo
Number 13: A power packed little realistic vibrator, Prince Vibrating Dildo may be small in stature but he provides big pleasure! It's my personal favorite small realistic vibrator for women. The circumcised head is a thrilling topping to the heavily veined shaft below. Extra wide suction cup base is perfectly suited to strap on use making it the most powerful attachment for a harness
Prince powerful vibrator is made of rubber that feels soft yet retains enough stability and firmness for fabulous thrusting sex. Indulge in a kinky fantasy while keeping girth and length to a minimum. It's my top suggestion for petite women who just can't physically take a big vibrator. 3 speeds and 3 batteries triple the strength coming from the motor for a real orgasmic surprise.
Total Length: 6 1/2 inches

Insertable Length: 5 inches

Diameter: Slightly under 1 1/2 inches

Batteries: 3 AA, not included

Motor: 3 speed

Material: Rubber

Waterproof: Dildo only

Color Options: Vanilla (White), Caramel (Brown)
14. King Cock Vibrator
Number 14: There are a few different sizes of King Cock Vibrator so every gal can select her ideal girth and length. The Medium size option is the 7 Inch King Cock Vibrator which features a tapered head that is super easy to insert. Beginners should not be dissuaded by the 7 inch length however, the shaft is super gentle and thin across the head slowly increasing in size along the way.
If you'd prefer something stocky and thick, jump right on up and take in the 8 Inch King Cock Vibrator instead. This king cock is pretty much the exact opposite of the previous example with a girthy shaft and punchy feeling insertion. Not lacking in power however, 3 batteries triple the strength compared to most other penis vibrators.
Total Length: 8 1/2 inches / 9 inches

Insertable Length: 7 inches / 8 inches

Diameter: 1 1/4 inches across the head, increases to 1 3/4 inches near the base of the shaft / 1 3/4 inches

Batteries: 3 AA, not included

Motor: Multi speed

Material: Rubber

Waterproof: No

Color Options: Vanilla (White), Tan (Light Brown), Chocolate (Dark)
15. Advanced Jack Rabbit
Number 15: My personal all time favorite rabbit vibrator. Nothing compares to the Advanced Jack Rabbit because it combines everything a woman's body requires for the most thrilling orgasm. Starting at the curved tip which instantly touches the G-spot upon penetration. The tip gyrates in a 360 degree circle so it actually feels like a G spot massage!
The metal beads in the shaft spin quite fast so that during an orgasm, you'll notice the moving "bumps" as they twirl inside the vagina. The soft rabbit has its very own motor just underneath the bunny ears which dazzle the clitoris with supreme power. Fully waterproof for shower time fun, there is truly no better way to wake up in the morning!
Total Length: 10 1/2 inches

Insertable Length: 5 inches

Diameter: 1 1/2 inches

Batteries: 3 AA, not included

Motor: 4 speed shaft rotation, 4 speed & 5 function clitoral vibration

Material: Silicone

Waterproof: Yes

Color Options: Pink, Purple
Click to buy powerful vibrators online.