How to Use a Suction Cup Dildo | Tips & Techniques
Last Updated on March 6, 2023
Dildos with suction cups are the most common feature found throughout the realistic dildo category. In fact, there is a good chance that one of your dildoes happens to have a suction cup base even though you might not even have bought it for that reason.
Table of Contents
Information
Buyers Guides
Today we'll cover some of the ways to use a suction cup dildo alone and with your partner. There is a complete tutorial along with a few tips on how to transform your new suction cup dildo into the best wall dildo to enact out the most lusty erotically charged sexual fantasy your imagination can create.
Before we begin, I'll address the top query any curious beginner may have who may have stumbled upon this guide by answering the most basic question:
Q. What is a Suction Cup Dildo?
A. It is a dildo with a suction cup attached to the bottom of the shaft. Some are really obvious – a large circular and rounded flat base that actually looks like a suction cup. Others are more subtle with a flat base that has a concave shape that creates a vacuum when you stick on a wall or flat surface such as a shower tile or bathtub.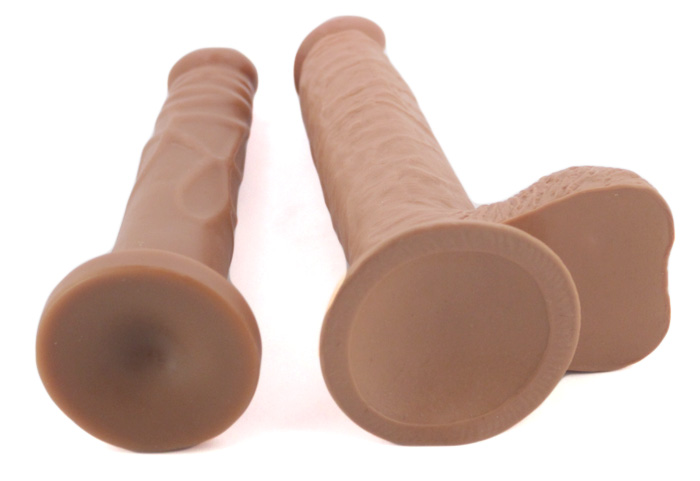 Mayla's Sexpert Opinion: Best Suction Cup Dildo Features
When shopping for your new suction cup dildo online, you'll be quick to notice that most dildos share this feature. While not overly new to the sex toy industry, they are certainly more commonplace than before.
I attribute this to the added versatility compared to a simple penis shaped shaft simply finished with a flat base lacking the concave shape or indent that creates a vacuum when pressure is applied.
Pro Tip:
Check out the toys for sale in our
life like dildo
category when shopping online. Most realistic dildos have a suction cup base so that they are harness compatible, but the base makes an excellent handle that is easy to hold too.
In summary, it's there if you want it – and creates no interference if you don't want it. My Sexpert opinion is that a dildo with suction cup is more useful than one without for the following reasons:
It will stand upright without falling over.

During dildo sex play with your partner, there will come a time when you'll place it on the bedside table and proceed with intercourse. The suction cup dildo stands upright so you don't have to worry about staining your tabletop with lube or getting it dirty with bodily fluids.

The handy handle!

If you are enjoying your sex toy solo in bed, it helps to have something that is "ergonomically friendly" to the position you're in. This means that when you hold your hands at the groin as you insert the shaft into the vagina, having something to hold (the suction cup base) really helps make it easier to use and assists in creating a consistent rhythm as you thrust.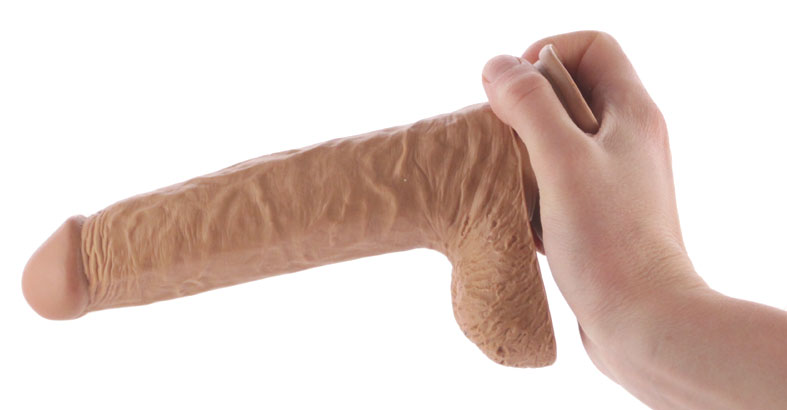 What's the Deal with a Wall Mounted Dildo?
Wall mounted dildos are really popular, but do women actually enjoy riding a dildo that sticks to a wall? Men visualize a female erotically riding a wall dildo as a wild sexual fantasy. That's powerful sexual stimuli for him, and women know it!
One my favorite suggestions for a couple to spice up a dull love life is to enact sexual acts in front of each other. It empowers her knowing she is creating unfathomable lust from him while he enjoys the view. Everyone wins.
So to summarize, wall dildos are a fun, creative and imaginative way for lovers to try something different together while exploring the kinkier side of sexuality. It might not be a smooth and sexy as you'll see in an adult film, but that's not the point. The couple is sharing an intimate act together. Creating memories, having some fun. Laugh, giggle and experiment together and you'll enjoy it no matter what.
Suction Dildos for Strap On Sex
Looking for an attachment for your harness? Any suction cup dildo will work with a strap on harness. There are 2 ways to mount it briefly described below, for for full details, check out the guide on how to use a strapon will full step by step instructions and tips.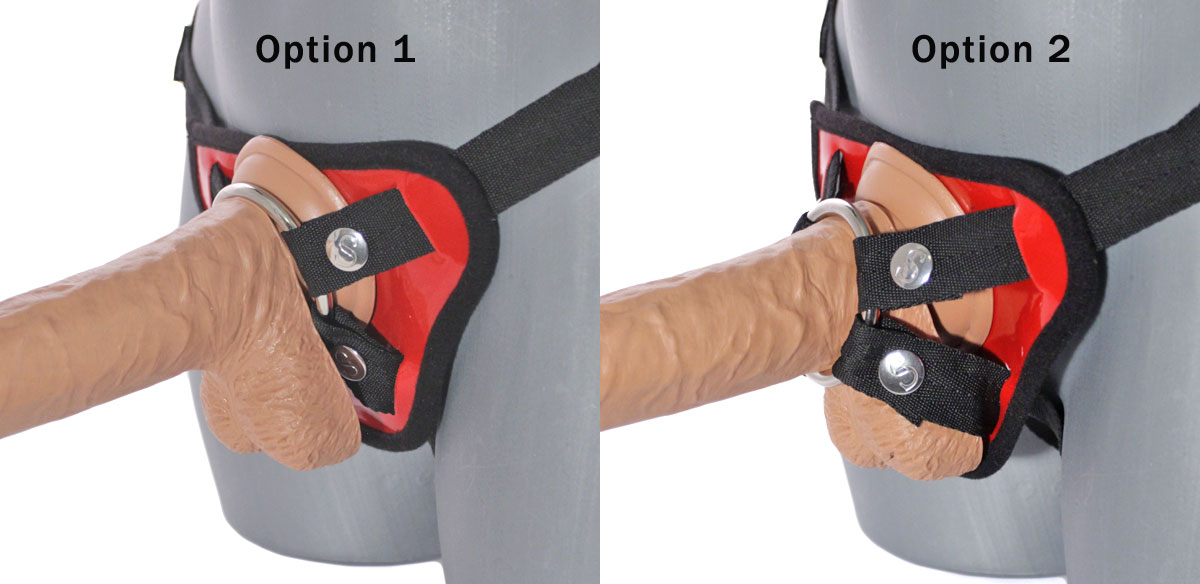 Push the suction cup through the O ring.

This will work best if the base is malleable and soft. Bend the edges inwards and push it through the ring. Having a big  flared one is also ideal because a sex toy with a tiny cup will fall out under heavy load of hard sex. If you can't push it through without risk of tearing the rubber or silicone, skip to following step and do this instead:

Slide the shaft through the ring.

Insert the penis head through the ring and let the bottom of the shaft be supported by the balls and/or suction cup base. Having balls does not affect the stability of the sex toy as its connected to the harness, but balls will help the shaft to stay more perpendicular to the ground and limit it from sagging downwards.
How to Use a Suction Cup Dildo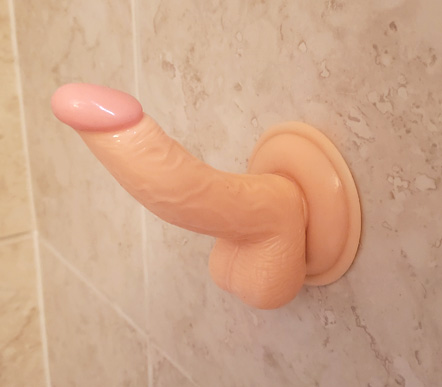 In my dildo users guide, I briefly cover tips and techniques on how to use a suction cup dildo. The angle is to use the large bottom adornment as a handle in the palm of your hand. On the contrary, if you want to ride the dildo on a wall, the following tips will help your dildo stick on the wall:
Make sure the surface area is clean.

If you are sticking it to the shower tile or edge of your bathtub, remove soap scum and water deposits. A smooth and clean surface will create strong suction as there will be no air gaps to reduce the strength of the vacuum created by the edge of the cup. (Specks of soap scum interrupt the contact of the cup circumference, it no longer has seamless contact).

Lightly moisten the interior of the cup.

Moistening the indent will make the suction cup sex toy stick much better than when applied dry. Don't go overboard and make it too wet however, when pressure is applied to make it stick it can slide around and slip. I'm talking a wipe of a moist finger just for a bit of lubrication. Not a sopping wet layer of liquid on the base.

Consider your angle of penetration.

The position of your body matters. Make sure the angle is appropriate for vaginal penetration. A curved shaft is a popular choice because when stuck to a wall, the head angles upwards making it easy for the woman to "back up" over it or squat for easy vaginal penetration.

A small or slim dildo for beginners makes insertion easier, especially if you're using it in a doggy style position. A curved shaft is not a necessity, of course. A straight penis shaft works well too, but you'll need to stick it flat to the floor and squat directly on top.
How to Ride a Suction Cup Dildo
Here are three great ways to ride a dildo with suction base. Keep in mind that you'll need to clean the surface of your wall or tub since if there is any soap scum leftover, the suction won't work as well as it will on a squeaky clean surface.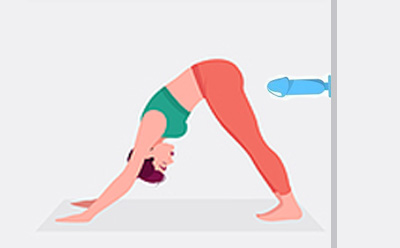 Yogis will especially find pleasure in this position. You're able to get direct and hard G Spot stimulation even with a straight penis shaft.
Why not get some exercise with sex toy play? Work out those thigh muscles while you choose how deep and fast to go. This riding position is easier if you have something to hold onto.
The most highly erotically charged way to ride a suction cup dildo. It's easy to fall into a wild fantasy of doggy style sex spo let your imagination take over this position.
15 Best Suction Cup & Wall Dildos
This is a tough one to pick from because people don't really shop for a sex toy based of the presence (or lack thereof) of a suction cup alone. Often the realistic penis features and size are the most important consideration.
Small to huge, vibrating or non-vibrating, rubber or silicone, the stick on base is simply the add-on to improve versatility in the bedroom. As such, my personal favorites are selected based of their main feature.
Most Realistic Suction Cup Dildos
If you're looking for a realistic skin feel, the Medium Ultra Real Skin Dildo is by far the best choice. The soft surface feels just like the real thing, the density accurately replicates a man's erect penis. There is no sex toy that feels more lifelike than this, it is a true marvel of erotic engineering.
The medium size is 7 inches, but the same product also comes available in large size option with a 2 inch girth and 8 inch length and is called the Large Ultra Real Skin Dildo. These toys made by Doc Johnson have removable suction cups. This way they are compatible with the Vac-U-Lock harness system adapter plug.
The small Life Likes Beginner and the slightly larger Life Likes Moderate are also classified as highly realistic but in a more budget friendly price point in comparison to the two choices listed previously. The soft rubber has lifelike veined detail and the perfectly crafted penis head to imitate real sex.
Both of these toys are The Adult Toy Shops best selling suction dildos for women. Women choose these because they are life sized and won't make the man feel emasculated during couples intimate play. They are an excellent toy to "warm up with" before intercourse. Available in white, brown or black.
Best Small Suction Cup Dildos
Mini Whopper Dildo is the best and strongest suction cup base I've ever seen. You can tell just by looking at the pictures too – the extra deep, huge flared base creates intensity sticky suction. The shaft itself is thin and small making it the bets option for a beginner.
Also a popular anal dildo for pegging sex, and a soft & gentle harness attachment for seniors who don't want something big, thick or scary looking. Up the pleasure with the Vibrating Mini Whopper with the strongest motor on any small vibrating dildo. Guaranteed to impress, I promise!
King Cock is a popular line of adult toys that just happens to produce some of my all-time favorite wall dildos. The 6 Inch King Cock is a tiny and stout penis with a gentle touch. If you'd prefer a tad more length, consider the 7 Inch King Cock which has a tapered head and is one of the easiest to insert making it my top choice for first timers.
Premium flexible rubber is a real delight and feels surprisingly lifelike. The only difference is that it lacks balls at the base. A suction cup dildo without balls and a sightly forward curved shaft makes it easy to ride in the bathtub or in the shower.
Best Large Suction Cup Dildos
There are several great choices if you're seeking one with a huge girth. The secret to searching for the best large suction cup dildo is to choose one with a visually huge suction cup.
Because the big shaft is so heavy lurking above, one with a small base will easily tip over. Furthermore, you'll find the suction isn't that sticky and it "un-glues" under load of thrusting as you're bouncing away up above.
With this in mind, here are my best suggestions that focus solely on the strength of the suction cup sex toy remaining stuck to a flat surface, shower or wall:
Best Vibrating Suction Cup Dildo
The King Cock vibrating dildo selection is awesome. Wireless and cordless, the batteries mount directly into the shaft. Twist the base on to activate the strong motor. Luxury rubber feels warm and realistic. All 3 size options look stunningly gorgeous too.
The 6 Inch is stout & thick. The 7 Inch has a slim head for easy insertion and the 8 Inch is large and in charge with a plump rounded head. All of these are available in white, brown and black colors and require 3 AAA batteries.
American Realistic Vibrator features a powerful vibrating motor and fantastic texture that amplifies the greatness of real sex. The circumcised head is the hallmark feature that ladies lust over while the bendable rubbery shaft has a ton of veined texture.
If you prefer a vibrating suction cup dildo without balls choose the American Penis Vibrator which has a smaller rounded penis head and shares a similar flexible erect shaft. Super wide concave base makes one of the finest vibrating strap on attachments too.
Cheap Suction Cup Dildo
Not everyone has an unlimited budget. In fact, that's the rarity. Keep it cheap, keep it simple. The small BFF Petite and its slightly larger counterpart the BFF Dildo are the finest examples of a no-frills suction cup sex toy. Available in jet black or peachy ivory.
A simple smooth rubber probe with an extra sticky circular indented base. The cheapest suction dildo for sale and a super popular non-phallic anal dildo for men and inexpensive butt pegging tool for couples.
If you seek one that looks and/or feels more realistic on the cheap, the Basic Life Like Dildo is an excellent pick. Small and gentle for first timers with a sturdy enough rubber build to withstand fast and vigorous thrusting, bouncing and riding.
If one with balls is more your style, Basic Realistic with Balls is my top choice. Both of these get high reviews in our online sex store because even though they are cheap, the materiel is really high quality and they are sure to last a lifetime. Never heard a negative review or complaint from the new owner so either of these is is money well spent.
Best Wall Mounted Dildo
As noted previously, it's easier to ride a wall mounted dildo that has a curved shaft. The head points upward for easier vaginal insertion. It's a more natural position for the body.
The 7 inch Small Curved Dildo is my personal favorite pick for women looking to stick a dildo to the wall and ride. The 9 inch Large Curved Dildo is another size option with a longer shaft. Both of these have the strongest suction cups you'll find on any sex toy.
Another best selling subsequent series of wall mounted dildos are the Major Dick Small and Major Dick Medium. Both of these feature an upwards curved shaft yet with a more mild angle than the examples listed immediately above.
The rubber is more pliable than it looks in the pictures – make sure to watch the video demos on the product page to see them bend. The small size option has a steeper curve compared to the medium size, but otherwise that they share similar features and are made of the same material.
Click to buy suction cup dildos online.