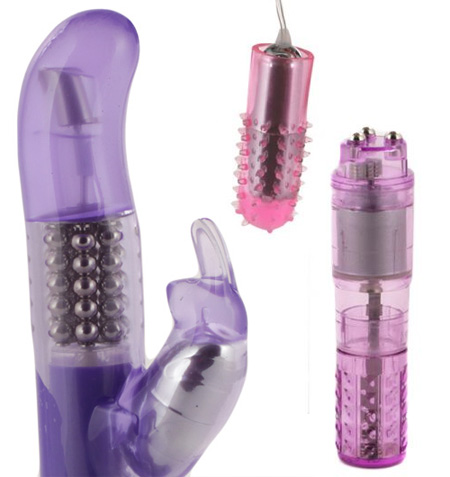 Best Clitoral Vibrators | 18 Best Clit Vibrators of All Time
Last Updated on December 28, 2020
Clitoral vibrators are my absolute favorite sex toy for women. My mission, however, is to spread the word that clit vibrators are stupendously fun for couples too, not the best vibrator for women who want to masturbate alone!
When I coach clients who are looking for advice on how to have better sex, one of the top suggestions for them is to bring a clitoris toy into the bedroom and incorporate it into foreplay. After all the years of learning about female sex toys & stimulators, I'm proud to offer this list of 18 best clitoral vibrators for women.
I've been around the block learning how to use sex toys and take my experiences seriously to educate adults and provide tips and ideas on what works, what doesn't, and clever ways to use vibrators for the clitoris aside from the obvious.
You'll find some ideas that will never be seen on traditional "best sex toys" lists because these are sourced from multiple categories. It's the experience advantage that I bring to the table - and into your bedroom! It's the essential sex guide for women & couples looking to pamper the supreme source of female sexual pleasure.
2 Subcategories of Clit Vibrators you Need to Know About First:
Before I begin, it's important to mention that there are several sex toys that can be used on the clitoris. We have many other kinds of clit toys, but these 2 types are the best clit vibrators because of their power, precise pinpoint stimulation and potent orgasmic potential:
Internal Clitoral Vibrators

This dual stimulation sex toy has a shaft that inserts into the vagina and features a vibrator for the clitoris attached mid-shaft. The most common and widely known style of is the rabbit style vibrator. These are the top selling, most popular and best clitoral vibrator because they combine full vaginal AND clitoral stimulation at the same time.

It is the top choice to produce the strongest orgasm a lady could experience; it provides sexual pleasure to all the erogenous zones at the same time and produces an awesomely powerful orgasm. What is a rabbit vibrator? Check out my guide you're in for a REAL erotic treat!

External Clitoral Vibrators

This small stimulator is designed to be held over the clitoris and does not insert into the vagina. There's a myriad of styles ranging from gentle teasing toys to supremely powerful bombshells. The most commonly known style is the bullet vibrator.

When I help women with low libido or vaginal dryness, I'll always send them out of the door with one of these. An external vibrator for the clitoris helps the body to feel sexually aroused, and as a result, the vagina becomes lubricated by natural means.

The orgasms from the most powerful bullets are extremely intense, therefore these are among the worlds best clit vibrators for women. Learn how to use a finger sex toy for some ideas on ways to incorporate small clit toys into foreplay with your lover.
18 Best Clitoral Vibrators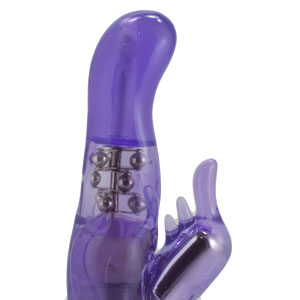 1. The Wild Vibe
The truly stunning Wild Vibe is at the top of my list! It's the best clitoral vibrator because of that thick, fat round thumb-like shape on the clit stimulator. It's wider than your clitoris so it's easy to hit the mark and stay there, even if you move a bit it won't slip off of your magic button.
The thumb feels firm so it transfers the powerful vibrations right into your body. The shaft has rotating metals metal beads and a G Spot curve which is like icing on your cake.
My secret tip: Turn up the external motor all the way and keep the gyrating motor on the lowest setting. The remaining power is transferred to the external motor giving you an extra big kick.
Total Length: 10 1/4 inches

Insertable Length: 5 1/4 inches

Diameter: 1 3/4 inches

Batteries: 2 AA, not included

Motor: 3 speed clitoral vibration, 3 speed shaft & bead rotation

Material: Silicone

Waterproof: Yes

Color Options: Pink, Purple
2. Triple Flex Vibrator
The Triple Flex Vibrator is my 2nd favorite. If you're not the "back door" type of gal, please don't be afraid of the anal tickler it's not as scary as it looks!
I'll address the tickler first: It's really flexible, so lay it between your butt cheeks. You'll feel the vibrations run right to the tip and the tingle from behind truly adds to your pleasure coming from the front.
Now for the important part: That little flailing tickler on the small motor whips the clitoris with passionate fury. There's something incredible about the engineering work behind this toy, it's ridiculously powerful. I also love the bendable shaft so you can tilt it forward for G Spot love. This thing is nuts!
Total Length: 9 inches

Insertable Length: 5 inches

Diameter: 1 1/2 inches

Batteries: 3 AAA, not included

Motor: Multi-speed

Material: Soft Rubber

Waterproof: Yes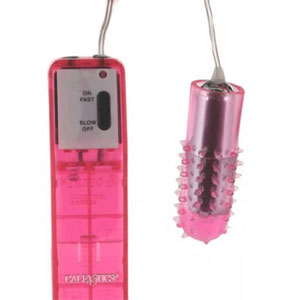 3. Turbo Accelerator
Looks can be deceiving. This silver bullet vibrator looks no different than any other in the sea of silver and it's easily passed by.
Ladies: Please consider the Turbo Accelerator now. It's been around for over a decade and I've never heard anyone say a bad word about it. There's way more power here than you would expect.
The spiky sleeve is a nice addition too offering some texture and warmer padding over the silver bullet underneath. It will bring you to orgasm in seconds. Okay, enough said. Look at this powerful clit vibrator now. You can thank me later.
Length: 2 1/2 inches

Diameter: 1 inch

Batteries: 4 AA, not included

Motor: 7 speeds

Material: Plastic bullet, Silicone sleeve

Waterproof: Bullet only
4. Power Touch
This is the newest addition, and the most surprising sex toy I've seen in years. The Power Touch the most powerful remote control rechargeable clitoral vibrator and the charge seems to last forever.
Of course it includes a USB cable so you can recharge it when it gets depleted, but you surely won't need to plug it in often. The bullet is bigger than most so it's easy to handle and you can even lay the whole thing over your labia.
The true highlight is the strength of that motor, it has multi functions which are just as powerful too, all controlled by the remote control. Just like the example above, this one creates an orgasm in seconds.
Total Length: 3 1/2 inches

Diameter: 1 inch

Batteries: Rechargeable with USB cable,

Motor: 3 speeds & 7 vibrating patterns

Material: Silicone bullet, plastic remote control

Waterproof: Bullet only
5. Clit Kisser Toy
This is my top choice for a lady with a low libido, vaginal dryness and for seniors. In this case, a mega powerful toy isn't what they're necessarily looking for. Something gentle yet sexually arousing is exactly what the sex doctor ordered. The Clit Kisser is a wonderful teaser with a slippery & stiff tongue shaped probe.
Lubricate the tip with water based lube or gel, poke it under the clitoral hood and rotate in in a 360 degree circle around the clitoris. Move the tongue between the labia and touch the vagina.
Push the tongue into the vagina a little bit and feel the mouth lips make contact with your body. It is designed to simulate oral sex and it does it well! The vibrations are perfectly pleasant too.
Length: 3 1/2 inches

Diameter: 1 1/2 inch

Batteries: 2 AA, not included

Motor: Multi speed

Material: Silicone

Waterproof: No
6. Micro Bullet Vibrator
When a couple wants to enhance lovemaking with a sex toy during intercourse, the Micro Bullet Vibrator is my go-to. It is the smallest sex toy I've ever seen, yet has an impressive amount of power.
I've tried myself this at home and didn't get bored, I thought surely it would lack "oomph" but I was pleasantly surprised! All it takes is 1 finger to hold it over the clitoris during intercourse.
It won't interfere with your position either because it has a low profile. You can even use this during missionary position.
Length: 1 1/8 inches

Diameter: 3/8 of an inch

Batteries: 2 AA, not included

Motor: 3 speeds

Material: Plastic, Rubber coating

Waterproof: Bullet only
7. Advanced Jack Rabbit
This is one of the best vibrators for women, but the real highlight of the Advanced Jack Rabbit is the stiffness of the rabbit. It's firmly attached to the shaft and doesn't bend back which means it presses harder on the clitoris than most other rabbit vibrators. This equals a bombardment of relentless sexual pleasure.
The flat rabbit head sits perpendicular to the clit making full and firm contact at all times. The curved shaft seems to reach the G Spot naturally and the tall row of spinning beads rubs the entire vagina.
Convinced? I hope so, you'll surely love this one. I do!
Total Length: 10 1/4 inches

Insertable Length: 5 inches

Diameter: 1 1/2 inches

Batteries: 3 AA, not included

Motor: 4 speed shaft rotation, 4 speed & 5 function clitoral vibration

Material: Silicone vibrator, plastic handle

Waterproof: Yes

Color Options: Pink, Purple
8. Revitalize Clit Sex Toy Kit
Pocket rockets are a quintessential clit vibrator with a flat round head made to apply direct pressure to the lady button. The Revitalize Kit pocket rocket is really no different than any other with comparable intensity and three metals balls on the tip, but the reason this makes the best clitoral vibrator list is thanks to the kit's three solid attachments.
I like these funky shapes better than traditional spiky caps. The rounded smooth and velvety feel adds a touch of class too. The double prong attachment is my favorite, squish the clit between the prongs and let it beg for mercy!
Length: 4 inches

Diameter: 1 inch

Batteries: 1 AA, not included

Motor: Single speed

Material: Plastic

Waterproof: No
9. Petite Jack Rabbit
Most of the dual motor vibrators are big, so I was happy to discover the Petite Jack Rabbit, the smallest jack rabbit vibrator for those who like a thin shaft.
You might be asking how does this stack up against the larger ones? Amazingly well! Just because it's small doesn't mean it lacks orgasmic potential. On the contrary, the tiny bunny is stiff for forceful contact and radiates high pitch tingling vibration.
It also has the famous rotating beaded shaft and a penis shaped head characteristic of rabbit vibrators. If you're looking for a small dual clit vibrator with a slim shaft, this should be your top choice today.
Total Length: 9 inches

Insertable Length: 4 1/2 inches

Diameter: 1 1/4 inches

Batteries: 3 AAA, not included

Motor: 3 speeds & 7 vibrating patterns

Material: Silicone vibrator, plastic handle

Waterproof: Yes
10. Dual Dancer
Further proving that small doesn't mean weak, the Dual Dancer is one that may not seem impressive from first glance, but brings home a dazzling experience you may not expect. The angle and shape of the rounded prong extension is ergonomically designed to hug the petite woman perfectly. (The thin shaft is also made for petite women.)
It has wide thumb like shape and the top scoop rests against the clitoral hood. There's a lot going on here including dual motors and G spot stimulation. If you're limited on time in the shower in the morning, this will bring you to a "happy ending" very quickly!
Total Length: 8 1/2 inches

Insertable Length: 4 inches

Diameter: 1 1/4 inches

Batteries: 2 AA, not included

Motor: 3 speed activated by inset clicker button

Material: Silicone

Waterproof: Yes
11. Vibro Dolphin
The Vibro Dolphin is my favorite cheap vibrator because even though the price tag is low, it's well made and accomplishes its task very well. Envision your clitoris under the curvature of the diving dolphin. Poke the nose under the clitoris hood and rest the body over the top.
The dolphin can bend slightly to aid in proper placement but it's mostly stiff so it can be snuggle right up to you. This is also one of my favorite first timer clit stimulators because it's simple, discreet and cheap all while pampering the clitoris better than you (or your partner) ever could just by using your fingers. This is also one of those great foreplay toys for couples.
Total Length: 5 inches

Diameter: 3/4 of an inch

Batteries: 1 AA, not included

Motor: Single speed

Material: Plastic vibrator, firm jelly dolphin

Waterproof: Yes
12. Lust Fingers
Okay I know what you're thinking: This isn't a vibrator! True, but the Lust Finger sleeves should never be underestimated! A must-have clit sex toy for couples during mutual masturbation, these jelly sleeves have texture that impresses. Wear the finger sleeves and rub the clitoris in circles up & down and flick it with your finger.
Rub your finger between the labia and even sneak it back to the perineum. The texture is really noticeable and feels totally different than just a finger alone. I love these, love to promote them and hope all couples add this to their shopping cart. It's a whole 'lotta pleasure for only $6!
Length: 3 1/4 inches

Diameter: 1 inch when relaxed

Material: Gel
13. Vibrating Clitoral Sucker
Beware ladies: the Vibrating Clitoral Sucker packs more punch than anything else! In fact, some women find it too overwhelming but if you're like me and think that more intensity is better, this one is the stickiest clit suction toy devices I've ever encountered.
The firm oblong cup is big enough to capture the clit, the suction is scoops it into the depths of the cup and the motor attacks it with tingling strength originating from deep inside the device. Stick it on there and leave it for a few minutes while it revvs your engine. Whoa - it's wild! This is my personal top favorite and best clitoral pump of all time.
Total Length: 3 1/2 inches

Cup Width: 3/4 of an inch

Cup Length: 1 1/4 inches

Batteries: 3 cells, included

Motor: Multi-speed

Material: Plastic vibrator, rubber bulb, gel clitoral cup

Waterproof: No
14. Thrusting Stroker Rabbit
If you've never heard of a thrusting vibrator, you're in for a treat! The Thrusting Stroker Rabbit is one of the best clitoral vibrators because it has extra features that escape from the ordinary. The finest feature is of course the thrusting shaft that moves up & down. This feature is controlled separately by its own motor.
Since this article points out my best clit vibrator selections, I have to mention the rabbit stimulator! The ears have the best build for transferring excellent vibration intensity – they are nice and stiff. The rabbit head is also still and stays right where you place it. Certainly one for your wishlist!
Total Length: 10 3/4 inches

Insertable Length: 5 3/4 inches

Diameter: 1 1/2 inches

Batteries: 3 AA, not included

Motor: 5 speeds of rotation, thrusting & vibration

Material: Firm jelly

Waterproof: No

Color Options: Blue, Purple
15. Jumping Gyrator
If you look up the dictionary definition of "gyrating", it says "move or cause to move in a circle or spiral, especially quickly. " and this is precisely the motion of the Jumping Gyrator. This female sex toy does not technically vibrate.
It tosses itself around in a vicious thumping, spinning motion. A measure of a sex toys intensity is to lay it on a table surface and activate the motor. The fiercer it jumps around, the stronger it will be resulting in a more powerful orgasm. That's simple math!
This is the most amazing vibrating egg that packs a stunning punch because of the hard thumping movement. How does it accomplish this? A heavy off center weight inside spins on a center axis causing disruption and extra displacement. Quite the engineering feat and one of the worlds best clitoral vibrators with tremendous power.
Length: 3 inches

Diameter: 1 3/8 inches

Batteries: 3 AA, not included

Motor: Multi speed

Material: Plastic, rubber coating

Waterproof: Yes

Color Options: Pink, Purple
16. Risque Tulip Vibrator
A surprising addition to the best clitoral vibrators list because this technically not a clit toy. It's actually categorized under wand vibrators, which most would say is incorrect too! In my opinion, it makes an excellent clit toy AND wand vibrator. The Risque Tulip Vibrator has the perfect flared head over top of a skinny shaft.
The surface has a nice velvety coating so it feels warm and naturally grips the skin. It's easy to hold when you're laying in your bed and want to stimulate the clit. Lay back, grab the handle and rest the curved head over the labia and hood. Now press the tip down and you'll feel it wrap around your magic button. This thing is MEGA powerful too so you can climax within a minute.
Length: 7 inches

Diameter: Shaft: 3/4 of an inch - Head: 1 inch

Batteries: 2 AAA, not included

Motor: 10 functions including pulsing, patterns & speed settings

Material: Plastic, thin rubber coating

Waterproof: Yes

Color Options: Black, Blue, Purple
17. Travel Teaser Kit
In a sea of ordinary pocket rocket vibrators, this one stands out because those 3 attachments are simply awesome! The Travel Teaser Kit includes 3 snap-on heads with vastly different shapes. I like this because instead buying 3 female toys you get 3 opposing shapes for one low price. Oh and even though it's cheaply priced; it's really good (read – high quality).
The solid clear tips rub the hot spot in a different way. I personally enjoy the flat cup shaped one the most because it follows the contours of the female body. The bubble tip offers nice pinpoint precision and is great for foreplay and to get yourself warmed up before intercourse. The curved tip is easy to reach when you're laying down alone. This is a favorite suggestion for first timers too.
Length: 4 inches

Diameter: 1 inch

Batteries: 1 AA, not included

Motor: Single speed

Material: Plastic vibrator, rubber sleeves

Waterproof: Yes
18. Magnetic Rocket
A massager with a metal roller ball has many uses. It will soothe tight neck muscles, relax sore feet, help arthritic fingers and provide a lovely orgasm! The Magnetic Rocket is designed for the latter. The large ball rolls gently across the skin and has a nice, sleek feel compared to anything else.
This sex toy comes with a rubbery sleeve that slides over top of the rocket. You can insert it vaginally too, or simply press the octopus like flared tentacles over the clit and press down. The motor is slightly stronger than most other rockets making this one of the best clitoral vibrators for women on a budget. Try using it in tandem with a Pipedream dildo for women.
Vibrator Length: 4 1/4 inches

Total Length: 6 1/2 inches (with sleeve on)

Diameter: 1 inch

Batteries: 1 AA, not included

Motor: Single speed

Material: Plastic vibe, TPR silicone sleeve

Waterproof: Yes
Click to Shop for Vibrators